Dan Wolff (Vocals/Guitar)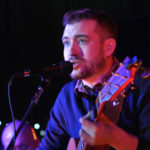 It is hard to believe that Dan Wolff would have ever been anything other than a musician. But, it wasn't until his college years that he seriously started playing guitar. Shy at first, it took two years until he began performing publicly. Beginning small, he cut his teeth playing and singing backup for various vocalists at small venues in and around the city of Ithaca, NY. After some initial success, Wolff penned a number of original songs which were ultimately recorded and released under his own name. After moving to DC in 2009, and networking with local musicians, Dan began recording his entire collection of original music which resulted in several more album releases. As his following grew, Wolff began collaborating with an eclectic group of talented musicians and decided to form a band. Ultimately calling themselves
The Muddy Crows,
they released a self-titled debut album in 2014. Never satisfied, Wolff is currently in the studio putting the finishing touches on several new albums, slated for release in 2016.
Eric Grabow (Bass)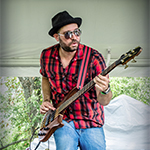 Growing up around Milwaukee, which birthed musical greats such as Les Paul, Steve Miller, Liberace and the Violent Femmes, it's no wonder music runs in the blood of Eric Grabow. After saving up a couple hundred bucks from washing dishes at the local Irish steak house, Eric bought his first bass at the age of 15. He would lie on the floor and play until he fell asleep, dreaming of the stages he would play and the masses he would entertain. After a couple of years of honing his craft and getting a college education, Eric started playing with a number of groups in the Milwaukee area. In 2007, Eric moved to the DC area in hopes of finding greater musical opportunities and a warmer climate in which to live. Soon after moving, he started laying down the bottom end for a band that would soon be known as The List, where he met Steve Mead. As the various members of The List went their separate ways, Eric and Steve joined with Dan Wolff to help create what is now The Muddy Crows.
Steve Mead (Keyboard/Vocals)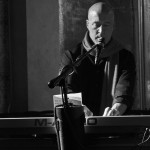 Steve is a West coast native that migrated to the DC area in 2003. Primarily playing keyboard, Steve has performed with multiple groups up and down the East coast. In 2009, Steve met Eric Grabow when he joined band called The List. After a year of performing and recording an album, Steve decided it was time for a change and joined a local songwriter named Dan Wolff. Joined later by Eric Grabow, the three began the work to create the band now known as The Muddy Crows.
Dan Perriello (Drums/Vocals)
Dan Perriello began air-drumming to songs with chopsticks at age 11. After waiting two agonizing years to get a drum set he promptly joined his first band, then played his first gig and got his first kiss on the same night. As a member of several DC-area bands, he has performed at countless venues and events in the DC area, including the 9:30 Club and HFStival. Dan's favorite drummer is Art Blakey, and he loves Alfred Hitchcock and James Bond movies. He drinks scotch, neat, and bourbon with a couple of cubes.
Tiffany Rose Shanta (Violin)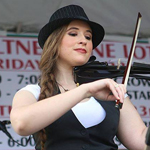 Tiffany Rose plays a mean fiddle- but, it wasn't always supposed to be this way. She began playing at a very young age, with traditional violin and piano, and was classically trained by her harpist mother and world-renowned conductor and violinist Luiz Haza. Classical symphony concerts followed- one even at both Carnegie Hall and The Kennedy Center. Her adventurous spirit then took her around the world, where she studied Afro-Cuban music and dance in Cuba, Viennese waltzing in a palace in Vienna, Austria, and toured France and Germany with an orchestra. Ultimately, This motorcycle-riding, rose-covered sports car driving, world-hitchhiking traveler settled down and joined The Muddy Crows. Maybe she is just mellowing, but judging from their high-energy performances, she may be facing her toughest gig yet.
Tom O'Donnell (Guitar)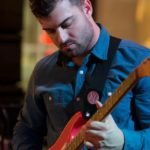 For his 10th birthday, Tom O'Donnell recieved a copy of Led Zeppelin's Greatest Hits Album. Fully inspired, he soon desired to become a musician. So, he was understandably elated to be gifted an electric guitar for his 11th birthday, the following year. Quickly embarking on the discovery of his own musical talent, he began by learning his favorite songs by ear. Of course, his first influences included the the usual suspects: Eric Clapton, Jimmy Page, and Jimi Hendrix. As his talent as a musician quickly grew, so did his list of influences. Aspiring to the styles of many popular groups, he found inspiration in the music of Queen, Dave Matthews Band, the Red Hot Chili Peppers, Snarky Puppy, Steely Dan, Jeff Beck, and Eric Johnson. He continued playing guitar throughout his scholastic career, but, it wasn't until after college graduation that he was able to find the time to join a band. After playing in-and-around Baltimore for over a year, he was excited to join up with The Muddy Crows, in August 2016.